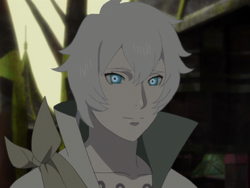 Toneri is a god and Nightmare's ally. He is the main antagonist of Grand World War.
Statistics
Name: Toneri, The Celestial God
Origin: Earth-Prime
Gender: Male
Age: 1000+
Classification: God
Height: 183 cm (6'0")
Weight: 60 kg
Skin Color: White
Eye Color: Blue with yellow sclera
Hair Color: White
Alignment: Bad
Status: Deceased
Class: Divine
Powers and Abilities:
Standard Equipment: God Physiology
Weaknesses:
Notable Attacks/Techniques:
Voice Actor: Jun Fukuyama
Power Stats
Attack Potency: Multi-Continent level
Speed: Sub-Relativistic with FTL Combat and Reaction Speed
Lifting Strength: Class E
Striking Strength: Class YJ+
Durability: Multi-Continent level
Stamina: Godly
Range: Planetary
Intelligence: Supergenius
Appearance
Toneri is characterized by his pale skin, shaggy white hair, attractive facial features, and six magatama designs tattooed on his collarbones to resemble a necklace.
Personality
History
Power
Main Skills and Equipment
God Physiology:
Relationships
Battles & Events
Battles
Events
Trivia
Quotes